Apotex Research, Aurigene Discovery Technologies, Sai Life Sciences, Hi Tech Biosciences, TherDose Pharma, SimSon Pharma are top six finalists for the prestigious Pharma Leaders Innovative R & D Company Company of the Year 2018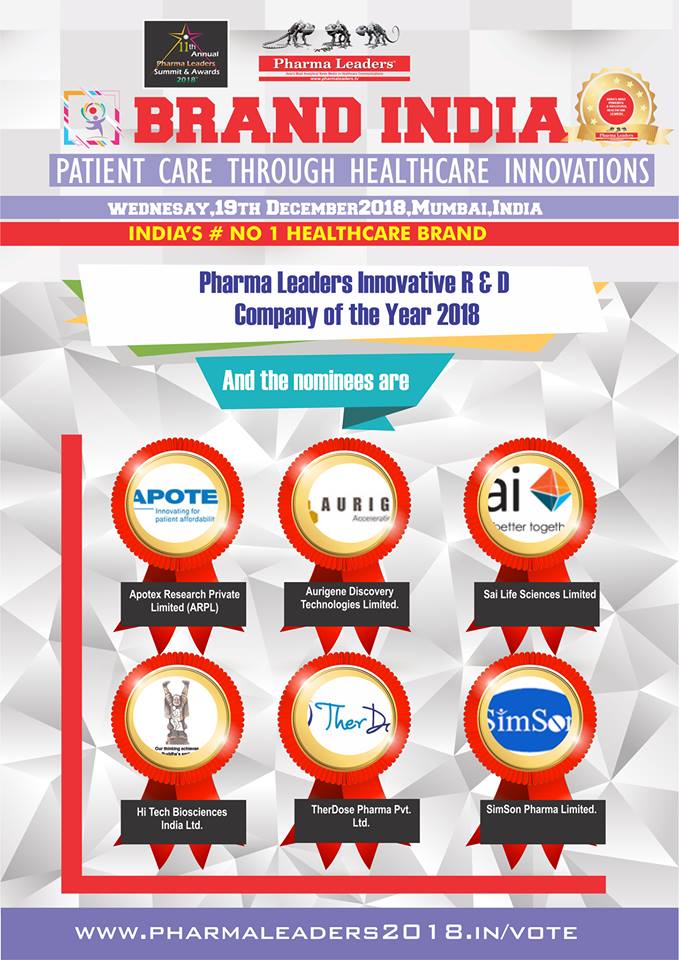 Apotex Research, Aurigene Discovery Technologies, Sai Life Sciences, Hi Tech Biosciences, TherDose Pharma, SimSon Pharma are top six finalists for the prestigious Pharma Leaders Innovative R & D Company Company of the Year 2018
Pharma Leaders Innovative R & D Company Company of the Year 2018
1. Apotex Research Private Limited (ARPL)
2. Aurigene Discovery Technologies Limited
3. Sai Life Sciences Ltd.
4. Hi Tech Biosciences India Ltd
5. TherDose Pharma Pvt. Ltd
6. SimSon Pharma Limited
Voting Link : https://goo.gl/forms/VvrU1cAvjJex0QqW2
The recent guidance from the US Food & Drug Administration (USFDA) on complex generics is expected to provide more clarity to US-focused Indian pharmaceutical formulators in preparing and submitting abbreviated new drug applications (ANDAs). This will help domestic pharma formulators with pending ANDA approvals to reduce review cycles and expedite approvals. Increasing spend and improving access to healthcare despite slowing US growth is expected to aid domestic pharma industry.Often pulled up for spending too little on research and development (R&D), India's biggest pharmaceutical companies now appear to match their global peers in investing for the future. The country's five top drugmakers together spent a record Rs 8,025 crore in R&D in FY17.
Unlike in the past, when several Indian pharma companies ramped up their R&D spend, targeting pipeline of specialty drugs, niche molecules and complex therapies, this time around companies are optimising their R&D spend. This is led by challenging US market conditions characterized by steep pricing pressures, high competitive intensity led by faster ANDA approvals and lower than expected revenue growth. Also with competitive pressures expected to sustain in the near to medium term, companies are exiting product development of easy to manufacture, simple generics with multiple players and focusing on complex generics and specialty products.
The aggregate R&D spends of top few domestic companies which had increased from 5.9% of sales in FY2011 to close to 9.0% in FY2017, moderated to 8.8% during FY2018 and further to 8.6% in Q1FY2019. ICRA expects R&D budgets to remain at 8.6%-8.8% given the growing focus both on regulated markets and complex molecules/therapy segments such as injectables, inhalers, dermatology, controlled-release substances and biosimilars. Indian companies have gained adequate scale and drug development capabilities over last decade of growth which will keep them in good stead to capture new opportunities in the developed market.
As for industry's profitability, the same has moderated over the last few years with aggregate EBITDA margins at 19.7% for Q1FY2019 (vis-a-vis 22.9% FY2017 and 20.1% FY2018). This is due to growth pressures along with sustained R&D and compliance related investments. Though margins remain healthy, the lower margins are due to pricing pressures for the US base generics business and lack of limited competition products. Higher share of domestic business and operational efficiencies has however provided overall cushion to margins.
Ranked by Industry experts, Pharma Leaders is arguably the India's largest & most trusted healthcare communication company specializing in executing high profile research findings, media broadcasting, healthcare campaigning & producing highly acclaimed world-class events once in a year .We are one of the very few global healthcare company with leadership positions in reaching out to the key sectors & stakeholders of pharmaceutical and life sciences, healthcare firms, hospitals, medical services, top notch opinion makers in the medical profession & other disciplines associated with healthcare industry. Pharma Leaders research findings are often cited at various credible places & the annual awards are most awaited prestigious, coveted & credible healthcare leadership awards conferred to the trendsetters & path-breaking companies. Unlike other companies, Pharma Leaders refuses to follow the traditional approach in reaching out to the final rankings based on false & ambiguous reports which deny the high performing companies, though small but rich in innovative practices & often ignored by the mainstream media & lost out to the biggies. The robust selection process at Pharma Leaders awards are a year long process where only innovations & out of box ideas triumph.