Star Health and Allied Insurance Co. Ltd voted as "Pharma Leaders Most Valuable & Admired Healthcare Insurance Company of the Year 2018" in a nation wide poll at Pharma Leaders Power Brand Awards 2018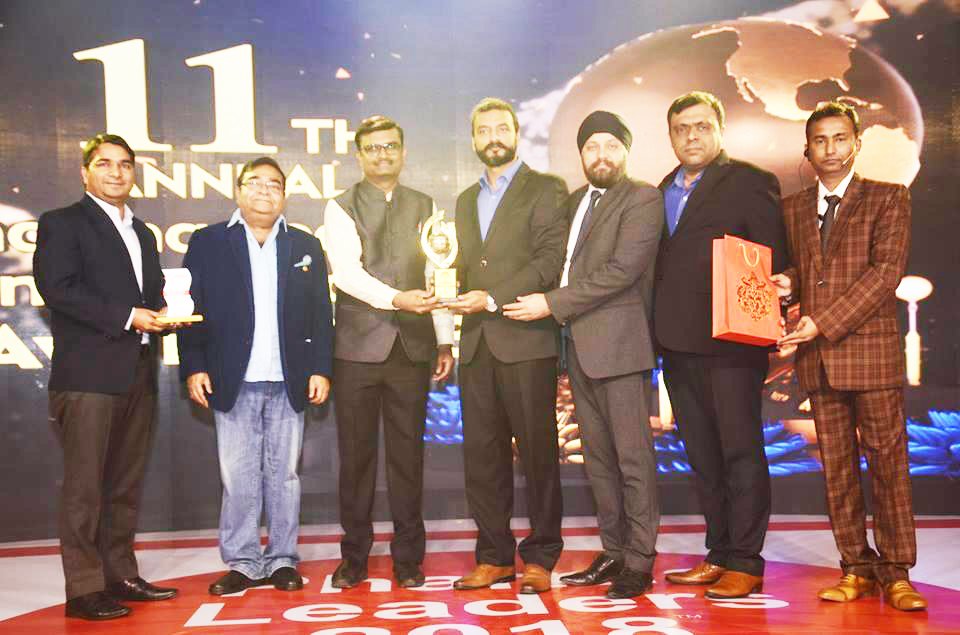 Star Health and Allied Insurance Co. Ltd voted as "Pharma Leaders Most Valuable & Admired Healthcare Insurance Company of the Year 2018" in a nation wide poll at Pharma Leaders Power Brand Awards 2018
Star Health & Allied Insurance was declared as winner in the very prestigious category of "Pharma Leaders Most Valuable & Admired Healthcare Insurance Company of the Year 2018" with more than 65000 votes in a nation wide poll where nation's top Pharma Leaders, Healthcare Entrepreneurs, Noted Doctors honored at historic 11th Annual Pharma Leaders Power Brand Summit & Healthcare Awards 2018 in a glittering award ceremony with more than 400 leaders in healthcare were present. Known for championing the cause for healthcare innovations & raising serious discussions to pave way for a better healthcare by bringing together the finest brains of the healthcare industry under one roof.
The 11th Annual Pharmaleaders Business Leadership Summit & Pharma Leaders Healthcare Leadership Awards 2018 were conferred to stalwarts of the industry. Dr Sudhakar Shinde, CEO, Mahatma Jyotiba Phule Jan Arogya Yojana (MPJAY) & Padma Shri Dr. Mukesh Batra, Founder & Chairman Emeritus of Dr Batra's Group & Satya Brahma, Chairman of Network 7 Media Group, gave away the prestigious awards .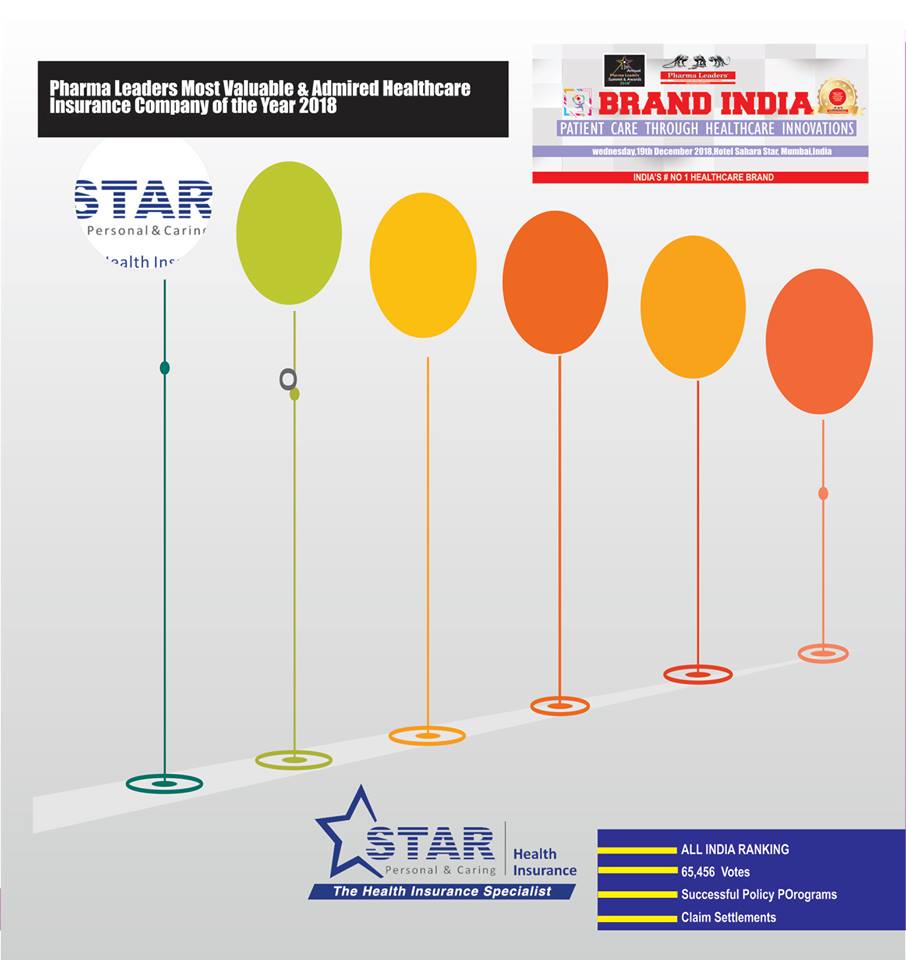 Star Health and Allied Insurance Company Limited provides health insurance products for individuals, senior citizens, and families in India. It offers personal accident, Mediclaim, and overseas travel insurance. The company was founded in 2006 and is based in Chennai, India. India's First Stand-Alone Health Insurance Company with Pan India Presence With More Than 440+ Branch Offices. Cashless Hospitalization And Reimbursement Facility In their Large Network Base With More Than 8800+ Hospitals Across India. It has wide range of health Insurance Products From Family Floater Schemes To Senior Citizen Health Coverage
The event was addressed by the veterans of the industry. Prof. Suniel Deshpande, Chairperson – Centre of Excellence in HealthCare, SIES College of Management Studies delivered an opening address. Dr. Ajit Dangi,President & CEO,Danssen Consulting,Chairman of the Board,Fulford India Ltd.( Subsidiary of Merck & Co. Inc. USA ) spoke on "Moving up the Value Chain through Innovation". Mr. Mayank Gandhi, Founder, Nation First had a one to one talk with Satya Brahma on How Charitable are Charitable Hospitals in India?. Mr. Raju Venkatraman, Founder Chairman & CEO, Medall Healthcare delivered a talk on "Changing Face of the Indian Diagnostic & Pathology Market : Challenges & Opportunities". Dr. Raja Mugasimangalam,Founder & CEO,Genotypic Technology (P) Ltd spoke on "Challenges & Opportunities of Genomics & Bioinformatics : Current Trends & Global Outlook".
The highlight of the Summit was the panel discussion on "Modicare In India : Will The National Health Protection Scheme (NHPS) be a Game-Changer for Affordable Healthcare Care In India?" where india's top voices on healthcare had a brainstorming discussion. The panelists included Dr Sudhakar Shinde, CEO, Mahatma Jyotiba Phule Jan Arogya Yojana (MPJAY), Padma Shri Prof. (Dr.) D. S. Rana, Chairman, Department of Nephrology, Sir Ganga Ram Hospital, Padma laureate Dr. Mayil Vahanan Natarajan, Chief Orthopaedic Surgeon, M.N. Orthopaedic Hospital, Chennai, Padma Shri Anoop Misra, chairman of Fortis Centre for Diabetes, Obesity and Cholesterol and heads, National Diabetes Obesity and Cholesterol Foundation, Padma Shri Dr.K.R.Palanisamy,Senior Consultant, Gastroenterology,Apollo Hospitals, Chennai, Mr. G. Sathya Narayanan, Managing Director – South Asia,Nestlé Skin Health India Pvt. Ltd, Dr Hrishikesh Pai, Consultant Gynaecologist, IVF &infertility Specialist, Medical Director, Bloom IVF Group, Mr. Mayank Gandhi, Socia Activist & Founder, Global Parli, Mr. Sushant Raorane, Director, Adroit Biomed Limited.
Padma Bhushan Dr. Suresh H Advani, Director,Medical Oncology, Jaslok Hospital and Research Centre addressed on Bone Marrow Transplantation in India : Emerging Trends & Challenges. Dr Rishma Dhillon Pai, Consultant Gynaecologist Lilavati, Jaslok & Hinduja Healthcare Hospitals, Mumbai spoke on Making Parents. Bringing miracles to life.
Overview
Healthcare issues have remained a challenge in India since a very long time. A significant part of Indian population is ageing and funds available for healthcare are lower than what is required. While India has made significant gains in terms of health indicators such as demographics, infrastructural and epidemiological, it continues to struggle with newer challenges.
Given the rise in awareness around being fit and healthy, policyholders could see more such products entering the market soon, triggering the next wave of changes in the sector. Additionally, life insurance companies, too, have jumped into the fray, offering long-term critical illness benefit policies, which were traditionally the domain of non-life companies.
The country is now in the midst of dealing with a dual burden of communicable and non-communicable diseases. This is coupled with spiralling health costs, high financial burden on the poor and erosion in their incomes. Changing lifestyle patterns have made the Indian diaspora more vulnerable to ailments and the cost of medical expenditure is on a rise due to the growth of the private sector in the healthcare segment. The main reason attributed to this is the lack of healthcare infrastructure available in the public sector and also government's inability to provide benefits to a large percentage of the populace.While, the government launched its flagship Ayushman Bharat health insurance scheme, an improvement in the state of public health desires much more shows the data on key health indicators released this year. The country also saw a spike in vector-borne diseases like dengue. Zika outbreak too made news this year. Lifestyle diseases, which have been on the rise, were also widely reported from across the country. The Supreme Court order to end stigma of leprosy in the country was a landmark verdict. India got its first-ever national healthcare facility registry when Union Minister of Health and Family Welfare J P Nadda launched the National Health Resource Repository (NHRR). It would have the registry of authentic, standardised and updated geo-spatial data of all public and private healthcare establishments. Here is low down of the major developments.