Renowned Oncologist Dr. Suresh H Advani recognised at Pharma Leaders 2018 Power Brand Awards as "Pharma Leaders Indian of the Year – Oncology"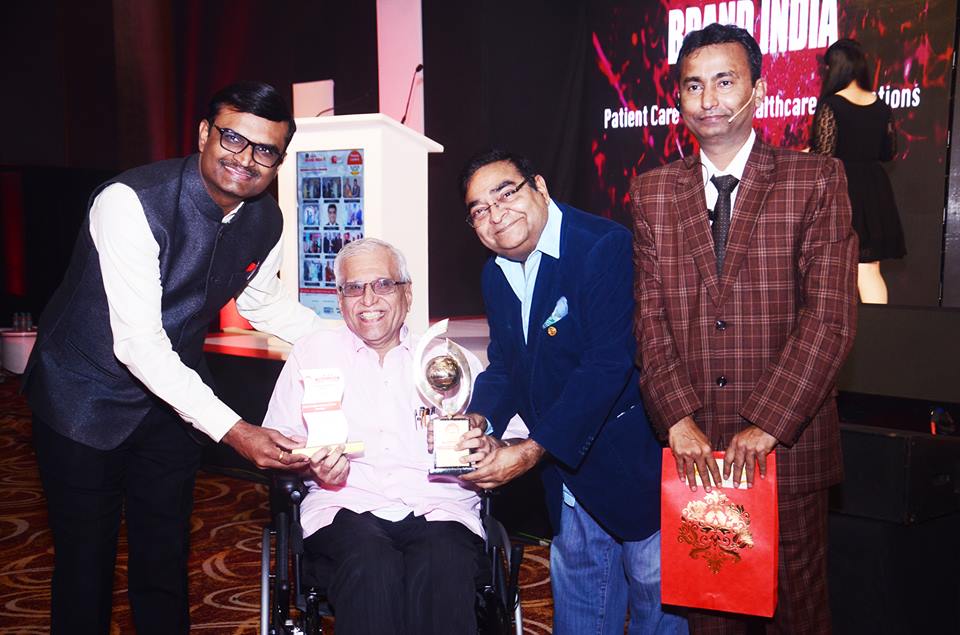 Renowned Oncologist Dr. Suresh H Advani recognised at Pharma Leaders 2018 Power Brand Awards as "Pharma Leaders Indian of the Year – Oncology"
Nation's top Pharma Leaders, Healthcare Entrepreneurs, Noted Doctors honored at historic 11th Annual Pharma Leaders Power Brand Summit & Healthcare Awards 2018 in a glittering award ceremony where more than 400 leaders in healthcare were present. Known for championing the cause for healthcare innovations & raising serious discussions to pave way for a better healthcare by bringing together the finest brains of the healthcare industry under one roof, Pharma Leaders, today is india's most credible & prestigious title & a senior leader in healthcare communications. Backed by more than decades of experience while working with the stalwarts of the industry, Pharma Leaders has always preferred uniqueness of the subject that appeal to the nation & are first of its kind in contents due to our in-depth expertise, research & Pharma Leader's reputation over the years!
The 11th Annual Pharmaleaders Business Leadership Summit & Pharma Leaders Healthcare Leadership Awards 2018 were conferred to stalwarts of the industry. Dr Sudhakar Shinde, CEO, Mahatma Jyotiba Phule Jan Arogya Yojana (MPJAY) & Padma Shri Dr. Mukesh Batra, Founder & Chairman Emeritus of Dr Batra's Group, the world's first and largest homeopathy corporate gave away the prestigious awards .
Pharma Leaders, Healthcare Entrepreneurs, Noted Doctors honored at historic 11th Annual Pharma Leaders Power Brand Summit & Healthcare Awards 2018
Dr. Suresh H Advani is an oncologist who pioneered Hematopoietic stem cell transplantation in India. Struck by poliomyelitis at the age of 8 years, the wheelchair-using doctor studied at Grant Medical College, Mumbai (where he obtained the MBBS and MD Medicine degrees), following which he worked at Tata Memorial Hospital for many years as a medical oncologist. Now he counsults at Raheja Hospital. He gained experience in the field of bone marrow transplantation from the Fred Hutchinson Cancer Research Center, Seattle, Washington.
Dr. S.H. Advani is presently the Director,Medical Oncology of Jaslok Hospital and Research Centre. Working in the field of oncology for last 44years.Established and developed the field of Medical Oncology in India.Pioneer in pediatric oncology and bone marrow transplant in India.Concept of clinical trial and phase I, II, III clinical trials in India.Collaboration project with National Cancer Institute (USA) IN Acute lymphoblastic leukemia.Initiated in the Molecular and targeted treatment of cancer in India.
Published 650 articles in National and International journals.Established Medical Oncology center at TATA memorial hospital, Jaslok Hospital and Raheja hospital. Collaboration with basic scientist at TMH/CRI. Established D. M course in Medical Oncology at Bombay University.Management of cancer patient with empathy, smile and love. Established NGO including V-care, Helping Hand for patient financial and psychological help. NGOs are also involved with Cancer Awareness program.Recipient of "Padma Shri (2002), Padma Bhushan Award (2012) and also Dhanvantri Award (2002).