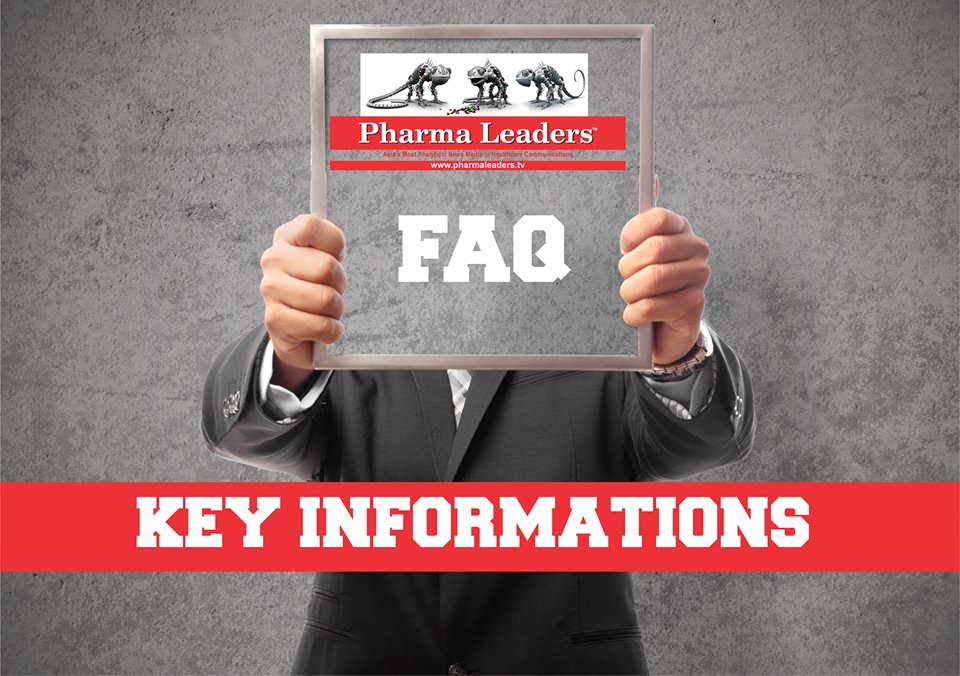 Awards Deadline and Closing Date:
The final closing date for entries to the Pharma Leaders  Business Leadership Awards 2018 is 5th November, 2018 (5pm ISD).
Voting Start Date : 12th October 2018

Voting End Date : 5th December 2018

Entry Form Submission: 
Entries must be submitted as per the Nomination Form procedures laid down by the Award Committee.
 Language:
Entries will only be accepted when submitted in the English language for Pharma Leaders Business Leadership Awards 2018.
Entry Acknowledgement:
Following electronic confirmation of receipt of the entry form by the Pharma Leaders Business Leadership Awards 2018 , you will be emailed with an Entry Confirmation mail.
Multiple Entries:
There is no maximum number of entries permitted from a single organization. You can submit as many different entries to as many categories as you would like. However, each individual entry submitted is liable to a separate form.
Judging Process:
Entries will be judged on the basis of the information provided to the independent judging panel on the entry form and a comprehensive information from the research desk of Network 7 Media Group . Details of the judging panel meetings will not be disclosed, nor will correspondence be entered into by the Indian Affairs Business Leadership Awards 2018 regarding validation or qualification of entries or the decision of the judges. Public voting will have a significant impact to know the mood of the nation.
Confidentiality:
Entries will be treated as strictly confidential. Only details of the award winners and selected commended or nominated entries in each category will be published prior to, or after the presentation.
Disclaimer: All company information collected will be kept confidential. However, Pharma Leaders will not be liable for any loss resulting from the disclosure of information in the application.  The jury will have the exclusive right to accept or reject any application based on its discretion and such decisions will be final.
Winners:
The decision of the judges will be  final & no correspondence will be addressed except in few extra ordinary cases. The nominees will be notified, and announced privately by the team of Pharma Leaders 2018 in time to make arrangements to attend the award presentation ceremony. Presentation of the awards will be held in a glittering power packed gatherings of industry leaders at the grand Jade Ball Room of Hotel Sahara Star on Wednesday,19th December 2018.
Tie:
The Decision of the Jury are final & binding. If at any point of time, if the evidences are found to be incorrect & facts & figures point to a grave whether partial or full, the name of the nominees can be withdrawn, replaced or removed. In some cases, even if the letters of Confirmations are issues, may be withheld or cancelled. The last minute decisions can also be taken to give justice to a nominee in voting category by shifting to a individual category based on reports. In case of a tie of two nominees, the award will be conferred to two winners from the list of six.
Promotion:
By entering the Pharma Leaders Summit & Awards 2018, companies & Individuals are expressly authorizing the Board of Pharma Leaders Group to use the specific text and visual materials submitted for the purposes of promoting the Pharma Leaders  initiatives to promote trade, commerce & industry in PLS 2018 presentations, reports for publication, web site and media activities as well as all other forms of promotional/publicity materials post the awards event.
General Inquiries:
For general inquiries regarding the Pharma Leaders Business Leadership Awards 2018, please contact Steve Rozer at steve.rozer@pharmaleaders2018.in.
Key Highlights:
Pharma Leaders Summit &  Business Leadership Awards are the flagship leadership venture of the illustrious Network7 Media Group global leadership platform currently in its 11th successful & uninterrupted editions!
This Event is held annually in India & is the much sought after event in the indian healthcare industry.
Pharma Leaders Indian of the Year Awards has been introduced by the jury in 2015 to give highest recognition to the organizations/individuals in social service, sports, business leadership, healthcare, politics & public service
Instituted & conceptualized in the year 2009, the event is rated by the analysts, experts & leaders from different disciplines as the most credible & prestigious title in recent history.
Pharma Leaders Summit  is an effective platform for exchange of ideas, thoughts, networking with business leaders & getting a deep insight from the eminent panel of Speakers.
Widely perceived by the industry Leaders, Pharma Leaders Platform is attended by top leaders of the country & raise burning topics of tremendous significance.
More than 5000 Delegates have attended the conclave in last ten editions & has been richly rewarded intellectually.
More than 400 successful companies & entrepreneurs has been recognized, felicitated & honored at the Pharma Leaders platform. Fortune 500 companies like GSK, Pfizer, Novartis, Fortis Healthcare, Cipla, Alkem, Aurobindo Pharma etc are among the companies in PLS Golden memories.
Pharma Leaders research findings are often cited at various credible places & the annual awards are most awaited prestigious, coveted & credible healthcare leadership awards conferred to the trendsetters & path-breaking companies. Unlike other companies, Pharma Leaders refuses to follow the traditional approach in reaching out to the final rankings based on false & ambiguous reports which deny the high performing companies, though small but rich in innovative practices & often ignored by the mainstream media & lost out to the biggies. The robust selection process at Pharma Leaders awards are a yearlong process where only innovations & out of box ideas triumph. 
Pharma Leaders Summit & Awards 2018 will be held in December,Mumbai,India & will be running on a theme "Brand India" – Patient Care through Healthcare Innovations". The Format is by presentations from the Speakers from 01.00 PM to 07.00 PM followed by the Award Presentation Ceremony.
How You can Vote :
Pharma Leaders Awards selection criteria is time tested & transparent. Our robust voting mechanism is aimed at bringing a public consensus of the mood of the nation. The Jury & Organizing Committee have taken every possible steps to ensure fair selection. Each category has its own target audience & is backed by our rich research methodology where we invite/ask/appeal/ request the stakeholders to select their favorite companies or personalities. May top leaders & celebrities are being selected through this process.Here are the few features of how you can vote & How You can Cast Your Vote at your favorite Companies/Leaders*.
Via Online : at https://pharmaleaders2018.in/vote/
By Pharma Leaders Group : Physical interviews will be carried out by Network 7 Research Journalists/Researchers to a sample size of 1.6 Lakh voters will be conducted in 16 Cities & will be counted in final votings. Please note that only 40 % of weightage are given to SMS/EMAIL/ONLINE/PHYSICAL INTERVIEWS to gauge the mood of the nation. 60 % purely rests on merits & Jury Members decision to give the real justice & make it transparent in our quest to find the real winners as we have been doing over last 8 annual editions.
One Person can vote only once in all category, repeat vote is not allowed & negated*


Eligibility
Nominee must be an owner/CEO who is primarily responsible for the recent performance of the company and an active member of the leadership team. Founders of public companies, who are still active in the top management, are also eligible. Nominations can be submitted by anyone who is associated with a successful entrepreneur.
Selection process
Finalists and winners are selected from all eligible nominations, by an eminent panel of judges.
What makes a winner?
Entrepreneurial spirit: Independent thinking and the ability to sense opportunities and transform them into success.
Financial performance: The strength of the organization's financial track record and provisions for long-term sustainability.
Strategic direction: The talent to serve as a mentor and lead in every sphere of business, ensuring success for the entire team
Community/Global Impact: Making a positive impact both economically and in the quality of life, in one's own community as well as globally.
Innovation: Pioneering new technologies and embracing change through continuous improvement and innovation in all realms of the business.
Personal integrity and influence: Demonstrating the highest standards of ethics and quality and creating a value system that earns respect and a culture of corporate social responsibility.
The Top Areas of Judging & Selection By The Jury
Leadership
Strategic Planning
Customer And Market Focus
Information And Analysis
Human Resource Focus
Process Management
Business Results
Financial management,
Decision making roles
Business impact. •Business ethics,
Managing rapid growth,
Innovation.Adapting to change.
Strategic partnerships.
Leadership roles& Marketing strategies
Corporate philanthropy to society.
Note : The Draft Award Objectives & Detailed Presentation made by the Pharmaleaders 2018 Jury Members & is the guiding spirit of Pharma Leaders Business Leadership Awards.