Dr. Anoop Misra, Chairman of Fortis Centre for Diabetes, Obesity and Cholesterol and heads, National Diabetes Obesity and Cholesterol Foundation Awarded as "Pharma Leaders Indian of the Year – Endocrinology" at Pharma Leaders Power Brand awards 2018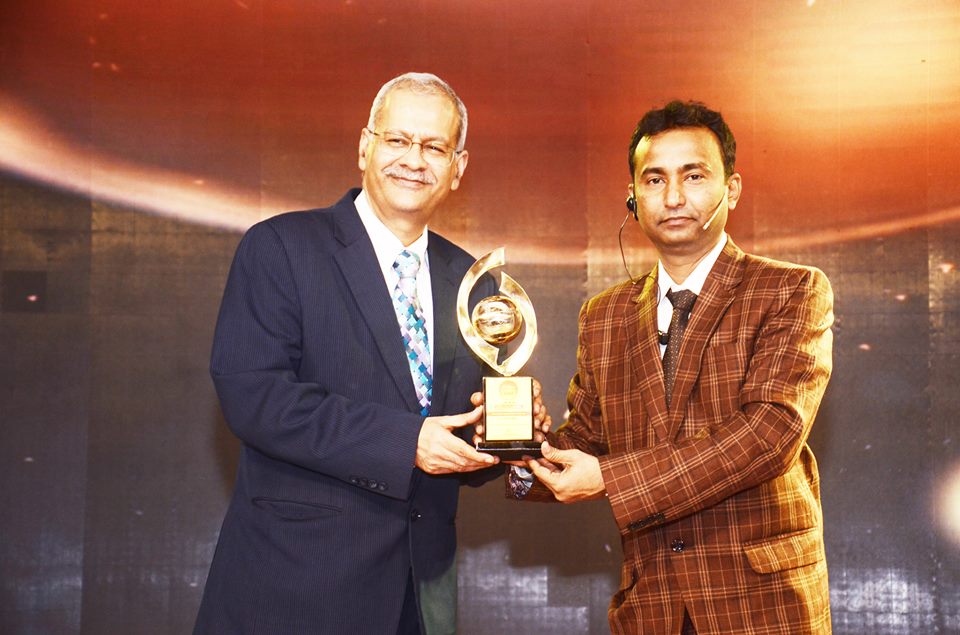 Dr. Anoop Misra, Chairman of Fortis Centre for Diabetes, Obesity and Cholesterol and heads, National Diabetes Obesity and Cholesterol Foundation Awarded as "Pharma Leaders Indian of the Year – Endocrinology" at Pharma Leaders Power Brand awards 2018
Nation's top Pharma Leaders, Healthcare Entrepreneurs, Noted Doctors honored at historic 11th Annual Pharma Leaders Power Brand Summit & Healthcare Awards 2018 in a glittering award ceremony where more than 400 leaders in healthcare were present. Known for championing the cause for healthcare innovations & raising serious discussions to pave way for a better healthcare by bringing together the finest brains of the healthcare industry under one roof, Pharma Leaders, today is india's most credible & prestigious title & a senior leader in healthcare communications. Backed by more than decades of experience while working with the stalwarts of the industry, Pharma Leaders has always preferred uniqueness of the subject that appeal to the nation & are first of its kind in contents due to our in-depth expertise, research & Pharma Leader's reputation over the years!
The 11th Annual Pharmaleaders Business Leadership Summit & Pharma Leaders Healthcare Leadership Awards 2018 were conferred to stalwarts of the industry. Dr Sudhakar Shinde, CEO, Mahatma Jyotiba Phule Jan Arogya Yojana (MPJAY) & Padma Shri Dr. Mukesh Batra, Founder & Chairman Emeritus of Dr Batra's Group, the world's first and largest homeopathy corporate gave away the prestigious awards .
Pharma Leaders, Healthcare Entrepreneurs, Noted Doctors honored at historic 11th Annual Pharma Leaders Power Brand Summit & Healthcare Awards 2018
Prof Dr. Anoop Misra is an Indian endocrinologist and a former honorary physician to the Prime Minister of India. He is the chairman of Fortis Centre for Diabetes, Obesity and Cholesterol (C-DOC) and heads, National Diabetes Obesity and Cholesterol Foundation (NDOC). A former Fellow of the World Health Organization at the Royal Free Hospital, UK, Misra is a recipient of the Dr. B. C. Roy Award, the highest Indian award in the medical category. The Government of India awarded him the fourth highest civilian honour of the Padma Shri, in 2007, for his contributions to Indian medicine. Professor Dr. Anoop Misra has multi-faceted personality and numerous distinctive achievements in clinical service, teaching, research, community health activities and medical education, and health upliftment of poor people. He has immense contribution to teaching of undergraduate and postgraduate medical education.
Prof. Anoop Misra
Brief Profile
Former Professor at All India Institute of Medical Sciences, New Delhi.
Former faculty, Department of Medicine and Endocrinology at Southwestern Medical Center at Dallas, Texas, USA
Presently, Chairman, Fortis-CDOC Center of Excellence for Diabetes, Metabolic Diseases, and Endocrinology, New Delhi, and Director, National Diabetes, Obesity and Cholesterol Foundation, and Diabetes Foundation (India).
Participant of top Advisory Committees relating to Diabetes and Cardiovascular diseases in India. Advisory board member of National Program for Cancer, Diabetes, and CVD. Member of World Health Organization Expert Group of Childhood Obesity and Indian Council of Medical Research Expert Groups for Childhood Obesity, Fatty Liver, Diabetes, and Gestational Diabetes.
More than 30 years of experience in teaching, service, research and community health intervention programs directed towards Asian Indians and particularly for underprivileged people.
More than 300 scientific papers in the National and International journals.
Advisory Board Member of British Medical Journal. Associate Editor of "Journal of Diabetes" (USA), European Journal of Nutrition (UK), and "Diabetes and Metabolic Syndrome: Research and Reviews" (Singapore)
Three editorials for prestigious journal "The Lancet", lead multi-national research team for lead article in "British Medical Journal" special issue on South Asia, and lead a tree article series on "Diabetes in South Asia" in Lancet Diabetes and Endocrinology.
Awarded Dr BC Roy award (2006) and prestigious National Honor, Padma Shree (2007).
Conferred National awards 'Americare Award' (Americare Foundation, India, 2012), "Swastha Bharat Samman" (from Zee TV 2012), 'Chikitsa Ratan' (by Delhi Medical Association, 2014) and "Excellence in Diabetes Care' (Health Summit Awards, 2014), "Legends in Diabetes" (Times Healthcare, 2018) for outstanding contribution to Diabetes in India. "Outstanding Investigator Award" from World India Diabetes Foundation in 2013.
He has given 35 named orations in India and neighbouring countries.
Several important scientific findings with impact on Indian's National Policy: Established Body mass Index and body fat cut-offs (adapted in UK for migrant south Asians), and exercise guidelines for India. Leading research on liver and pancreatic fat.
Many large philanthropist projects for community; intervention projects on nutrition and health of schoolchildren in north India and "Customised Mobile Van for Diabetes" program for underprivileged populations in Delhi.
Preceptor of 6 months BMJ-Royal College of Physicians-Fortis CDOC Certification Program for Diabetes.
Personal physician to two former Prime Ministers of India.